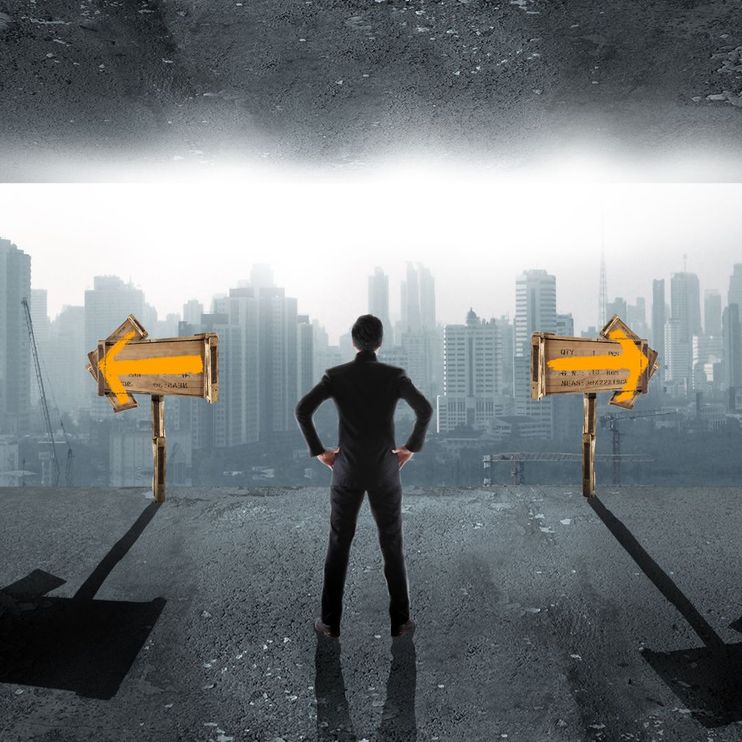 Daring to Deal: How Bold Companies Win in Turbulent Times
There is a strange phenomenon occurring right now in the world of deal-making.
Dealmakers (who have intentions of doing a deal in the next 6-12 months) are finding themselves falling into one of two strategic camps: those that are looking for opportunities now, preparing for a return to normalcy, and those who are waiting for a sign to start.
Given all the recent and current economic and geopolitical shocks including volatile interest rates, the Russia-Ukraine conflict, supply-chain issues, energy prices, and inflation – among other things – it's easy to empathize with those who are waiting.
And there is safety in numbers. You're not going to lose your job if everyone else is sitting on their hands too. But not everyone is. And that's a problem.
Why?
Because other people are looking. They are not sitting on their hands. And they certainly aren't waiting for any signs to start looking, because they are focused on the fact that they want to get a deal done in the next 6-12 months and execute their strategy. We know this because we help our clients map their markets and find opportunities every day.
And, aside from the logic of it, it's worth noting that even the research backs the notion that essentially, the early bird gets the worm.
Bain & Company lays this out masterfully in their Global M&A Report of 2023. I won't try and summarize the entire report – it's a masterpiece and I encourage you to read it – but a few key takeaways are:
History tells us that companies making bold moves during times of turbulence tend to win over the long term. With regards to M&A specifically, data shows that those who win are those who don't pause during a downturn, rather, they take advantage of opportunities to reshape their industries.
Companies that executed at least one deal per year during the last economic downturn earned 120 basis points more in total shareholder returns than companies that were inactive in M&A (figure 1).
A theme amongst winners was the idea of those who used M&A to build "Engine 2" businesses (defined as "new businesses within existing companies that use the scale benefits of the core business to grow faster than an independent start-up could"). In fact, 69% of them had, specifically an add-on strategy (figure 2). Whether buying capabilities, rolling up businesses with a similar core, or buying a new core already at scale, inorganic growth was a significant driver of growth.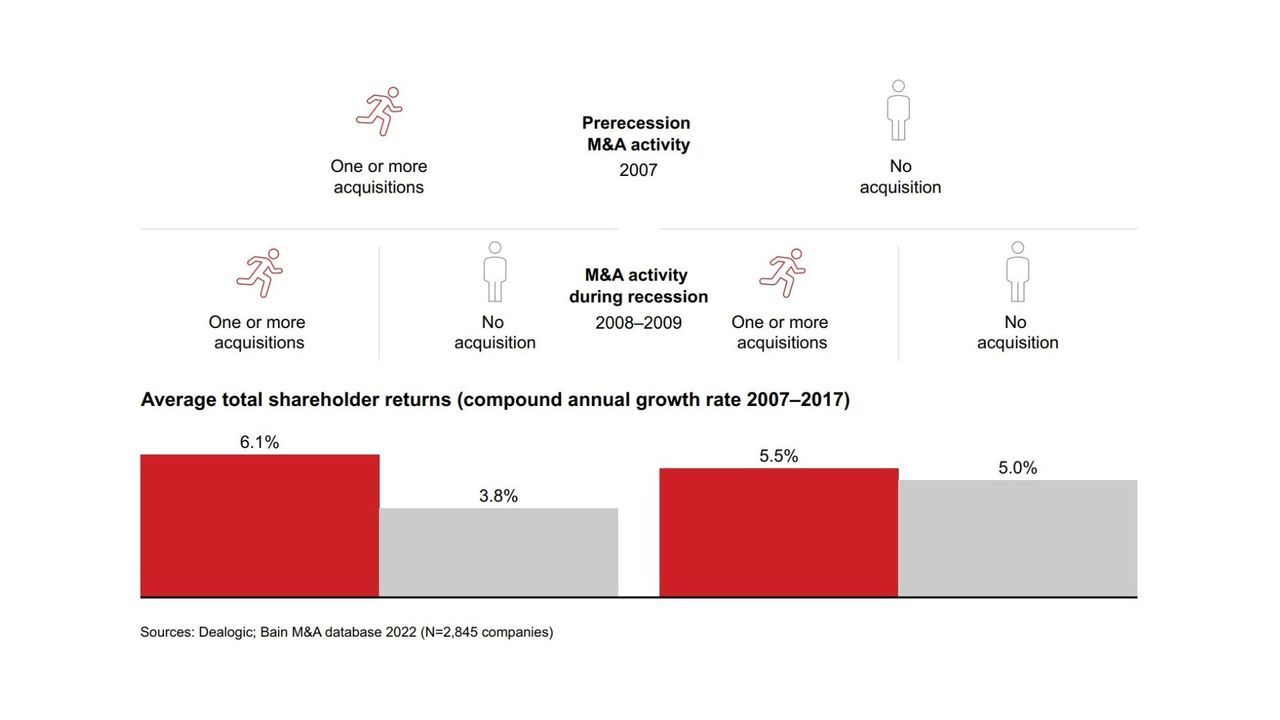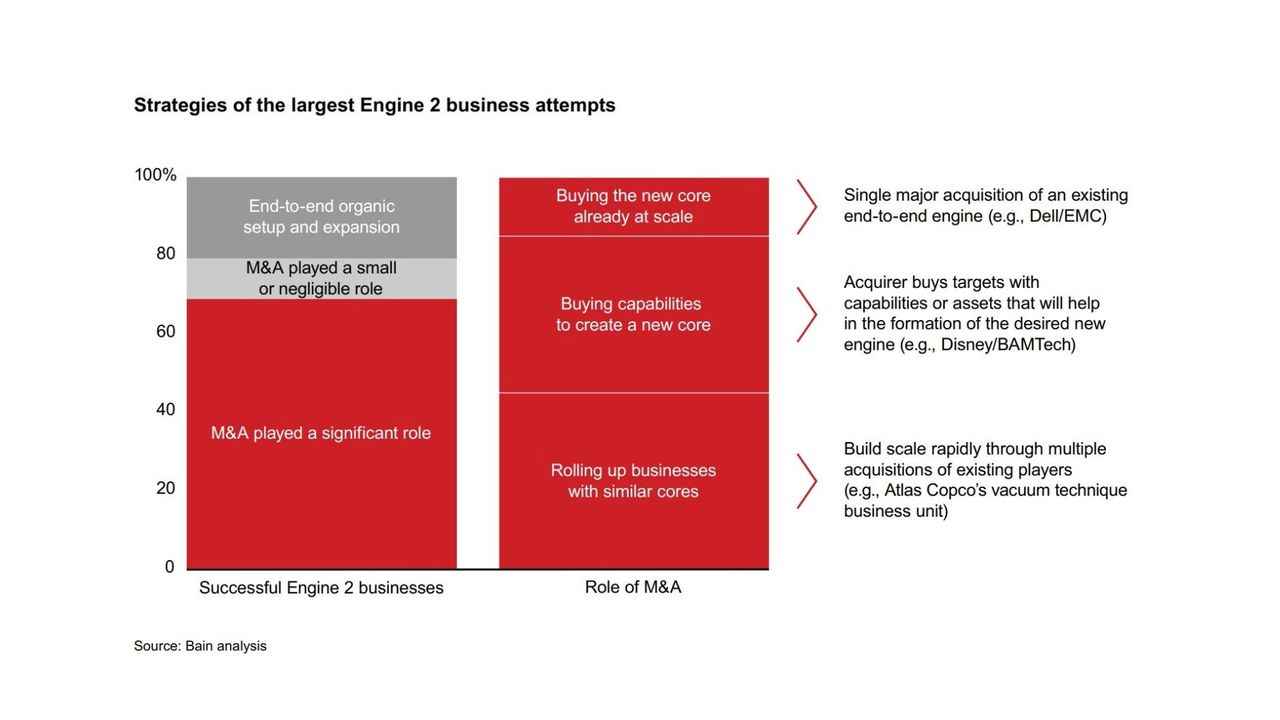 But that is historic data, and we are in unprecedented times. So, what predictions or sage words does Bain have to say as we work through 2023? Again, there were a lot of great suggestions but here are a few key takeaways:
There will be a continued prevalence and move toward small- to medium-sized deals
These smaller deals will be easier to complete than megadeals given they are relatively lower risk, have lower reliance on financing, and are generally subject to less regulatory scrutiny
Strategic buyers hoping for a steal should be prepared for increased competition from financial buyers as the year unfolds
Companies will need to come to the table armed with proprietary insights that are deeper and more focused. Due diligence levels that were acceptable in a more stable environment, won't cut it in 2023.
The report concludes that: "Winning companies will be those that take these lessons to heart as they make bold moves in the downturn. They'll take advantage of lower premiums and less competition for deals to accelerate their new growth engine, outpacing competitors more effectively and for less total cost."
In short, companies that move, when others hesitate, will be rewarded.
So how can you fly in the face of turmoil and gain that competitive advantage?
You know as well as anyone that no deal is done in a couple of months, and realistically, it's unlikely to be done in anything less than 6 months. When you frame it like that, and you know you want to do a deal at the end of 2023 to some point in 2024, what was a risk, simply becomes due diligence and laying the groundwork. So keep it simple:
Know your universe. By this I mean make sure you have a comprehensive (unbiased) view of all the players in the target market.
Look for hidden gems. 97% of companies are in the lower- and middle-market so there's plenty of opportunity out there. You can't know and keep track of 10s of millions of companies. No one can. If you're going to be amongst those looking at smaller deals as Bain suggested, you need to think carefully about your sources. My advice is to embrace the data-driven approach on this one.
Build relationships early. Relationships are worth their weight in gold. Get in early with those attractive targets so that you're the person they call when the time is right. And if you get in early enough, potentially bypass an auction process altogether.
Do all that and you'll be in great shape for deal-making.
I will leave you with one thought:
Fortune favors the bold. You only have to think of the likes of Apple, Alphabet, Berkshire Hathaway, Animoca Brands, Microsoft, Amazon, and Tesla. Following the pack wasn't what got them to where they are today.
So, what's your next move? Will you seize the moment and boldly win in these turbulent times? Or will you simply watch as others take the lead? The choice is yours.
—–
About the Author:
Gerard Belicha is Co-Founder & CRO at Finquest. A seasoned banker and entrepreneur, Gerard has over 20 years of experience in deal origination, sales, emerging markets, corporate finance, and risk management. He is also an affiliate founding partner of True Global Ventures and a mentor at the University of Lausanne. He holds a master's degree in finance from HEC Lausanne and is a certified master practitioner of neuro-linguistic programming. He lives in Hong Kong with his wife and two children.